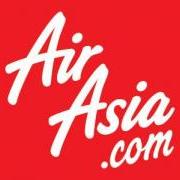 AirAsia has launched two promotions, which are available from now till 25 July 2010.
The "Just for Two" promotion is for travel between 2 August 2010 and 15 November 2010. Fares start from as low as USD17 for two guests on domestic flights and USD50 for international flights. Fares listed on the website are for bookings of two persons. The domestic fares pertain to within Malaysia, Thailand and Indonesia. International flights included in this promotion depart from countries such as Singapore, Malaysia, Thailand and Indonesia for various ASEAN cities and also destinations in Taiwan, India and China, among others.

The second promotion is an Early Bird special for travel between 14 February 2011 to 8 May 2011. Fares start from as low as USD4 on some domestic flights while international fares start from USD23. There are more domestic and international routes available for the Early Bird promotion than for the "Just for Two" promotion, including destinations such as Hong Kong, Philippines and Australia.
All fares quoted are subject to taxes and surcharges. For a full list of routes under these promotions, visit www.airasia.com.