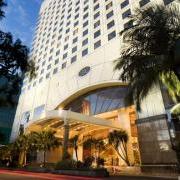 Enjoy five-star accommodations at the Crowne Plaza Jakarta starting from just USD84. The quoted price is the "Advance Purchase" rate for a Deluxe Room and must be booked at least 7 days before arrival. Rates with breakfast start from USD99 per night. Add USD25 for double occupancy. This is an on-going promotion and is available until further notice.
Advance purchase rates for other room types start from USD100 for a Premier Room, USD108 for a Club Room, and USD132 for a King Suite. All rates are subject to service charge and local taxes totaling 21%. This promotion requires full pre-payment by credit card at the time of booking. No refunds will be given in the event of a cancellation or changes.
The Crowne Plaza is a five-star international hotel located in Jakarta's central business district. The hotel offers 357 luxuriously appointed rooms and suites plus a full range of facilities including meeting rooms, an outdoor pool, fitness center, restaurants, and a lounge with live entertainment. Deluxe rooms have LCD TV with international channels, in-room internet access, a mini-bar, and work desk.
Visit the Crowne Plaza Jakarta website for more information or to make an online booking. The hotel can be contacted by calling (62) 21 5268833 or emailing crowne@crowneplazajakarta.com.