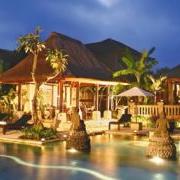 Experience the Balinese countryside with the whole family for just USD150 per night. The "Family Package" at the Tepi Sawah Resort includes accommodations in a spacious villa, breakfast, internet access, and a sightseeing tour around Ubud.
The two-level Batuan villa is the perfect choice for families and can easy accommodate 4 people with 1 king bed in the upstairs bedroom and 2 twin beds in the downstairs bedroom. The villa is furnished with all the comforts of home including satellite TV, mini-fridge, wireless Internet, large bathroom, and a balcony overlooking the gardens. The package also includes daily breakfast with your choice of Western or Indonesian food, afternoon tea with traditional Balinese cakes, a shuttle to the main Ubud area, and a 3 hour sightseeing tour of the highlights around Ubud. Guests who stay for 7 nights or longer will also receive complimentary airport pick-up.
The "Family Package" is an on-going promotion and is available until further notice. A peak season surcharge of USD10 per night will apply from December 23, 2010, until January 3, 2011. All room rates are subject to 10% service charge and 11% local taxes.
Tepi Sawah is an intimate resort with 12 spacious villas and lush tropical grounds. Ubud may be far from the beach, but the resort offers plenty of activities including a swimming pool, spa, restaurant, and art gallery. They can even arrange for budding artists to take a painting or wood carving class.
Visit the Tepi Sawah website for more information or to make an online booking. Reservations can also be made by emailing sales@tepisawahvillas.com or calling (62)361 970388.