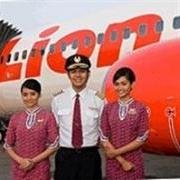 Starting June 29, 2011, Lion Air will offer direct flights between Jakarta, Indonesia, and Kuala Lumpur, Malaysia. This route will be flown by a new Boeing 737-900ER aircraft and there will be one fight in each direction per day. Promotional one-way fares start from IDR300,000 (USD35) plus airport taxes. Promotional fares are non-refundable and fees apply for any changes.
Flight JT 282 will depart Jakarta daily at 9:05am and arrive in Kuala Lumpur at 12:05pm local time. Flight JT 283 will depart Kuala Lumpur at 1:00pm and arrive in Jakarta at 2:00pm local time. The flight duration is approximately 2 hours.
Lion Air is Indonesia's largest private carrier and is based out of Jakarta. Lion Air connects Jakarta to 4 countries including Singapore, Vietnam, Malaysia, and Saudi Arabia, and also flies many domestic routes. Lion Air is Asia's first two-class budget carrier and offers both economy and business class tickets. Unlike other budget airlines, guests do not have to pay additional fees for checked luggage. All international tickets include 20kg of checked luggage for economy class or 30kg for business class travelers.
Visit the official Lion Air website at http://www2.lionair.co.id/ for more information or to make an online reservation. The reservations center can be contacted by calling (62) 21 6379 8000.