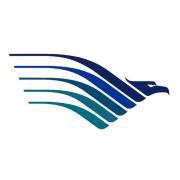 To mark Indonesia's 65th Independence Day, Garuda Indonesia is offering discounted fares to passengers from Singapore. Fares will only be available for booking on 17 August 2010 from 9am to 5:30pm. The fares include taxes and surcharges, and are priced at SGD150 for the Singapore-Jakarta route and SGD200 for the Singapore-Bali route.
For passengers traveling onward to Surabaya, Yogyakarta or Semarang via Jakarta, the additional domestic flight is priced at SGD70.
The tickets are valid for travel from 18 August to 17 December 2010.
Tickets must be purchased from the Garuda Indonesia sales office at 101 Thomson Road, #12-03 United Square. To enjoy the discounted fares, passengers will have to sign up for the Garuda Frequent Flyer program.
Garuda Indonesia is Indonesia's national airline and flies to 31 domestic destinations. It operates seven daily flights from Singapore to Indonesia.
For inquiries, call the sales office at (65) 6250 2888.