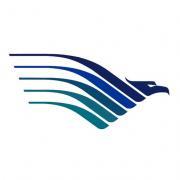 Book online to receive Garuda Airline's "Best Fares" between Indonesia and major cities across East Asia. Promotional roundtrip fares departing from Jakarta include Singapore for USD80, Kuala Lumpur for USD85, Bangkok for USD150, and Hong Kong for USD347. These are base fares and do not include taxes or surcharges. This promotion is available for bookings and travel until June 14, 2011.
Promotional fares are also available from Jakarta to Seoul for USD518, Shanghai for USD523, Beijing for USD541, and Tokyo for USD580. Discounted one-way fares are also available. Taxes and surcharges range from USD75- 275 depending on the destination. Promotional fares are Economy Restricted tickets and charges apply for refunds or changes.
Garuda is the flag carrier of Indonesia and flies to more than 50 destinations. It is a full-service airline and ticket prices include 20 kg of checked luggage for economy passengers, on-board refreshments, and individual seat-back TVs with a variety of movies, music, TV shows, and games.
Visit the Garuda website at www.garuda-indonesia.com for a complete list of sale fares or to make an easy online booking. Reservations can also be made by contacting the Garuda Call Center at 0 804 1 807 807 or (021) 2351 9999, or by emailing e-booking@garuda-indonesia.com.