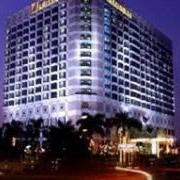 There are two ways to save at the Millennium Hotel Sirih Jakarta. Guests who book at least 14 days before arrival receive a 15% "Advance Purchase" discount and guests staying 3 nights or more receive a 20% "Leisure for Longer" discount. After applying the maximum discount, rates are USD48 for a Standard Room or USD52 for a Superior Room. Both promotions are available until December 31, 2011.
These promotions also apply to Club Rooms and Suites with rates from USD60 and USD76 respectively. All room rates are subject to service charge and local taxes totaling 21%. A deposit of one night's stay will be charged to your credit card at the time of booking and is non-refundable. Amendments to your stay can be made up to 48 hours before arrival.
The Millennium Hotel Sirih Jakarta is a four-star hotel located in the heart of Jakarta's bustling business district. Its 401 guestrooms and suites are elegantly appointed with comfortable bedding, satellite TV, mini-bar, and broadband internet access. The hotel offers a full range of facilities including a fitness center, outdoor pool, concierge, lobby lounge with live jazz, and Indonesian and Japanese restaurants.
Visit the official Millennium Hotel Sirih Jakarta website for more information or to make an online booking. The hotel can be contacted by calling (62) 21 230 3636 or emailing sales@millenniumjkt.com.