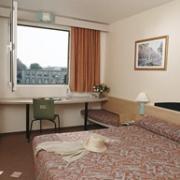 For a comfortable stay at a low price, you can't beat the 3-star Ibis Hotel Jakarta Kemayoran. Nightly rates start from just USD36 for a Standard Room or USD41 for a Standard Room with breakfast. Service charge and local taxes totaling 21% are additional. Wireless internet access is free and the hotel even has a swimming pool. The "Hot Deals" promotion is available now through June 30, 2012.
Room prices vary by date and will be higher during peak periods such as holidays. Rates are based on single or double occupancy. One child under the age of 12 can share the existing bedding for no additional charge. "Hot Deals" rates require full pre-payment by credit card and no refunds will be given in the event of a change or cancellation.
The Ibis Jakarta Kemayoran is a 3-star hotel located in the heart of historic Jakarta, near the fairground and Gambir railway station. The hotel offers 130 standard guestrooms furnished with one double or two single beds. All rooms have air-conditioning, satellite TV, internet access, mini-bar, and ensuite bathroom with shower.
Visit the Ibis Hotel Jakarta Kemayoran website for more information. The hotel can be contacted by calling (62)21 4210111.