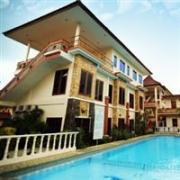 Escape to the Bintan Agro Resort on a weekday and enjoy special discounts. Nightly rates start from USD76 for a Standard Room and guests who extend their stay will receive a 50% discount on the second night or the third night free! Rates are subject to an additional 21% in service charges and local taxes. The 'Fantastic Weekday Package' is an on-going promotion.
Rates for other room types start from USD85 for a Deluxe Room, USD96 for a Family Room, and USD115 for a Suite. Rates are based on single or double occupancy. The original booking must fall on a weekday and is not valid on public holidays or the eve of public holidays. The extension nights can fall on weekends, holiday holidays, or eves of public holidays, but a 20% surcharge will apply.
The Agro Resort is a three-star beach resort just a short ferry ride away from Singapore on Bintan Island, Indonesia. Guestrooms are furnished with all the modern amenities and have spacious balconies to enjoy the beautiful views. The resort is minutes from the white-sand beach and offers a swimming pool, water sports, fishing trips, a spa, and restaurants.
Visit http://www.agrobeach.com/ for more information about the Bintan Agro Resort. To book the 'Fantastic Weekday Package', complete the reservation form on the website.